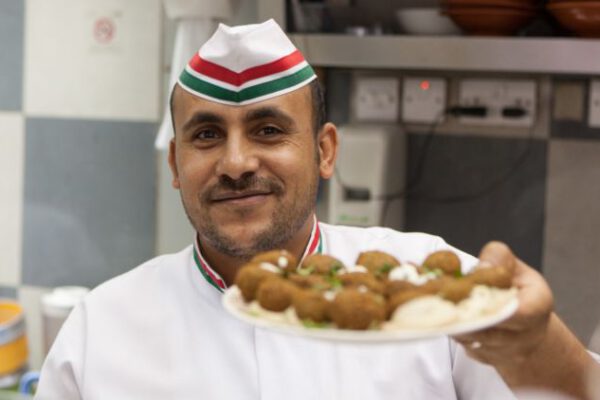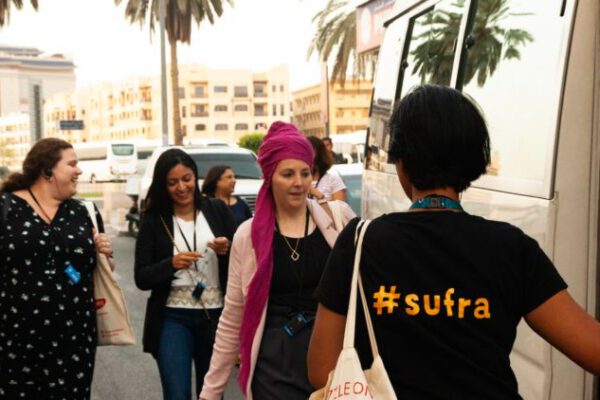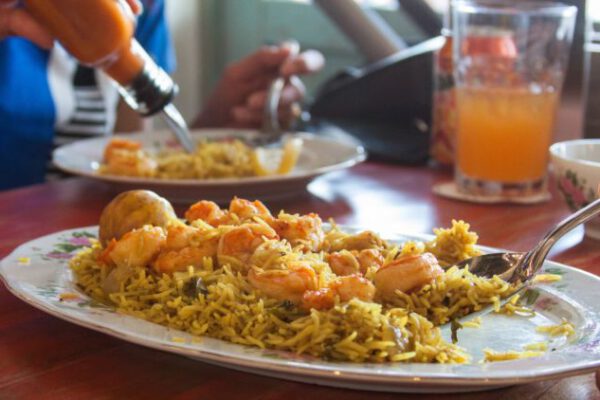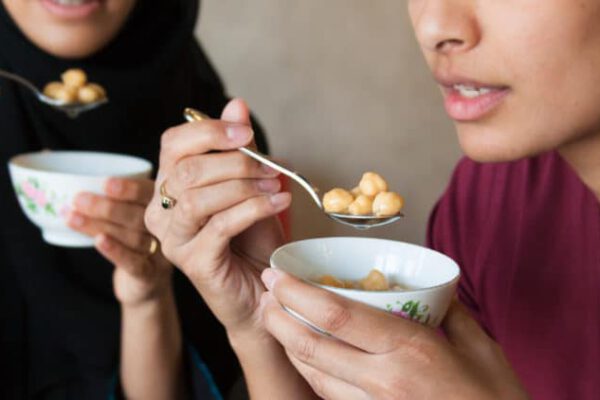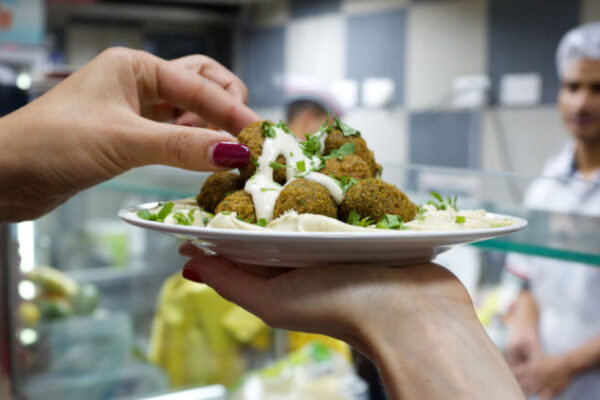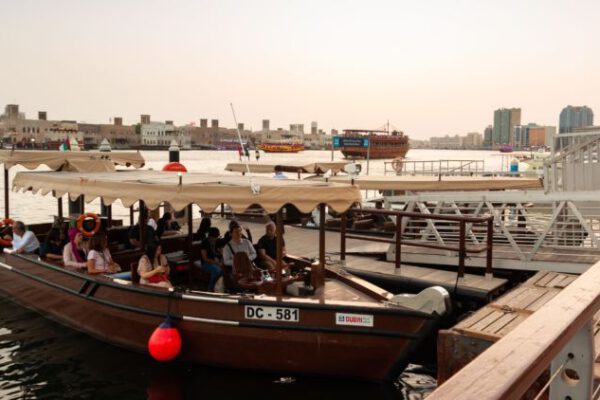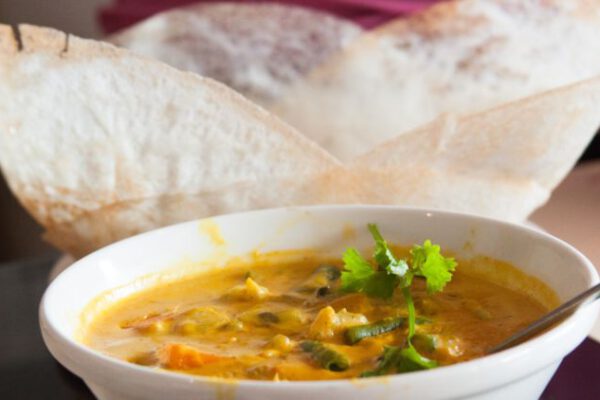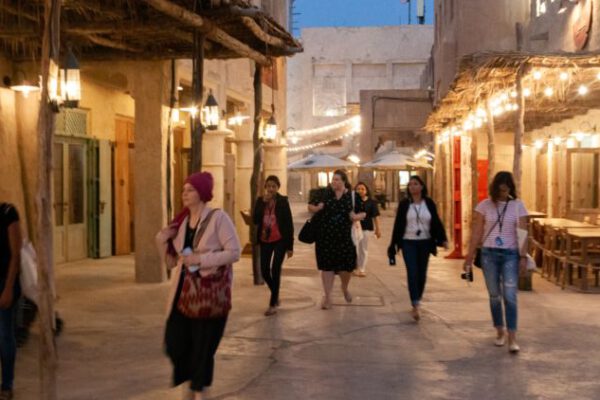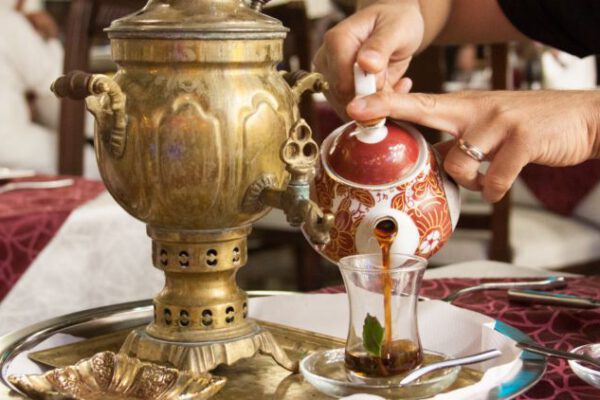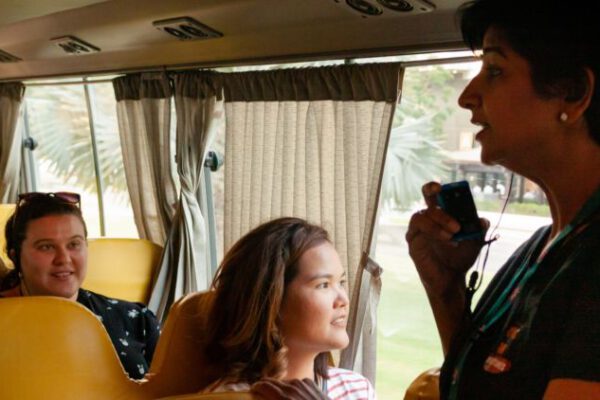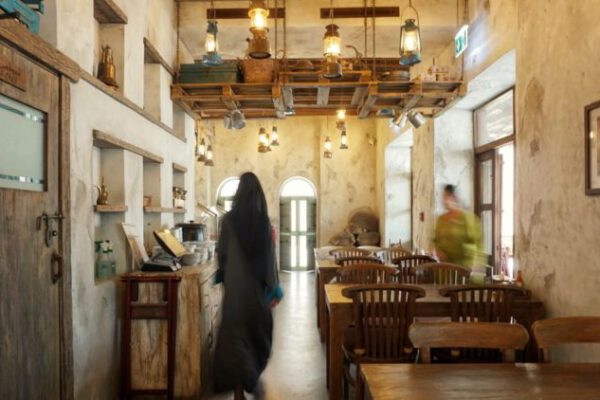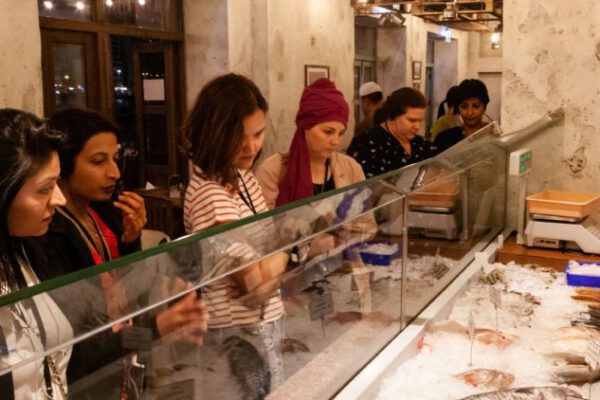 Hop aboard our air-conditioned coach to enjoy 4 iconic food tastings, local stories and vibrant street art across 4 Old Dubai neighborhoods.
Skip the touristy spots and experience Dubai through the everyday foods that long time locals keep close to heart.
Experience 4 food tastings across the most prominent communities of Old Dubai – native Emirati, Levant, Indian and Iranian.
Beat the heat in our comfortable air-conditioned coach. We'll pepper the ride with our colourful stories of Dubai's history and culture.
Visit humble neighborhoods that old timers get nostalgic about: Deira, Bur Dubai, Karama and Jumeirah 1.
Snack on the legendary Palestinian falafels that made our original Middle Eastern food walk rise to fame on CNN!
Join a friendly, knowledgeable guide and an intimate group of 8 to 10 like-minded food lovers from around the world.
June to September. Evening tours available on selected days of the week.
Transfers between stops in an air-conditioned coach. Abra ride included. One 10-minute walk.
4 tastings. 3 stops feature a vegetarian dish, though seafood/meat dishes cannot be substituted.
Tastings include Gluten/Lactose/Dairy/Nuts. We do not recommend the tour for severe allergies.
The minimum age to join the tour is 8 years. Strollers and infants are not permitted on the tour.
The tour requires a minimum of 4 guests; we may cancel and refund tickets if the minimum is not met.
Carry earphones for the audio system used by our guide.
Carry a light jacket/sweater as the bus and some restaurants will be air-conditioned.
Hop aboard our air-conditioned coach and ride through the humble residential streets that children of the 80s and 90s fondly remember for their go-to spots. We start our journey in Deira and finish up at Jumeirah 1, making 4 tasting stops along the way.
As we drive through different neighbourhoods, we savour foods from communities whose stories are intricately tied to Dubai's meteoric rise from a small coastal town. We taste herb-packed Palestinian falafels and pepper-spiked hummus in Deira, Emirati shrimp pilaf and date crepes in Bur Dubai, Keralite-style bread and stew in Karama and Iranian "stone bread" and samovar tea in Jumeirah 1.
This tour has been curated to be far more than just an eating experience. Gain an insight into the places where we grew up and how they've changed through the decades, some with splashes of artistic graffiti. Engage with our passionate guide who is armed with stories of the foods being featured and is eager to share her insider tips on how to experience the city as locals do.
Our route and featured tastings are subject to change.
Allergens Key: Contains G-Gluten; D-Dairy; N-Nuts; M-Meat (Beef/Lamb); P-Poultry; F-Fish; S-Shellfish. We regret that there may not be substitutes for dishes. Even if specific dishes do not contain these ingredients, we cannot guarantee against cross-contamination of allergens in the restaurant kitchens.
Palestinian Falafel Stall
Herb-packed falafels; creamy pepper-spiked hummus and old-school chicken shawarmas on a humble street corner.
Abra Ride
Cross the creek in an updated version of the wooden water taxi.
Emirati Restaurant
Soupy chickpea snack, shrimp rice pilaf (S) (no veg substitute); date crêpes (G); Hear stories about the role of coffee in local customs over cardamom-infused gahwa and dates.
Keralite Restaurant
Observe fresh rice flour and coconut milk bread being made and pair it with Keralite beef chilli fry (M) (no veg substitute) and vegetable stew.
Iranian Restaurant
Taste Iranian "stone bread" fresh out of the oven (G). Sip traditional samovar tea with Persian sweets (G)
We meet at the entrance of XIMI Vogue shop outside Al Rigga Metro Exit #1, Al Rigga Road. The shop is steps away from Gift Gallery Centre. Please be on time, we don't wait for latecomers!
Given the heavy traffic, limited parking and different starting and ending locations, we strongly recommend that you take the metro rather than driving to the trail. If you plan to take a taxi, please budget extra time for traffic.